Lanta 603 Bus Schedule 17th St Crosstown, Lanta is a shared shuttle service that provides services for passengers in Lehigh and Northampton counties, carpooling.
Lanta Bus Schedule 603 17th St Crosstown
Bus Schedule Lanta 603 17th St Crosstown
Weekday
Route 603
Bus Schedule route 603
Route 603 – Weekday
17th St – Crosstown
Weekday
Northbound
** – Trips/timepoints marked operate only September to June when Allentown School District is in session. NOTE: The 400 series routes have been suspended and will not operate during the 2020-2021 school year.
W Emaus &
S Church Sts. Parkway Shopping Center 15th &
Walnut Sts. 17th &
W Turner Sts. W Allen &
N 6th Sts. Lehigh Valley Mall
** 6:45 ** ** 6:58 ** ** 7:04 ** ** 7:09 ** — —
** 6:47 ** 7:00 7:06 7:11 7:21 7:30
— 8:30 8:35 8:39 8:49 8:59
— 9:50 9:54 9:58 10:09 10:19
— 11:10 11:14 11:18 11:29 11:39
— 12:30 12:34 12:38 12:49 12:59
— 1:50 1:54 1:58 2:09 2:19
— 3:10 3:15 3:19 3:32 3:44
— 4:30 4:35 4:39 4:52 5:04
— 5:50 5:54 5:58 6:09 6:20
Southbound
Lehigh Valley Mall N 7th &
W Allen Sts. 17th &
Linden Sts. 15th &
Elm Sts.
YMCA / YWCA Parkway Shopping Center Jefferson St &
Liberator Ave W Emaus &
S Church Sts.
7:45 7:54 8:05 8:09 8:12 — —
9:15 9:24 9:34 9:38 9:42 — —
10:35 10:44 10:54 10:58 11:01 — —
11:55 12:04 12:14 12:18 12:21 — —
1:15 1:24 1:34 1:38 1:41 — —
— — **2:50** **2:54** — **2:58** 3:11**
2:35 2:44 2:54 2:58 3:01 **3:02** **3:15**
3:55 4:05 4:15 4:20 4:23 — —
5:15 5:25 5:36 5:41 5:44 — —
6:35 6:44 6:54 6:58 7:00 — —
LANTA
Saturday
603 Saturday
Bus Schedule route 603603 Saturday
Route 603 – Saturday
17th St – Crosstown
Saturday
Northbound
Parkway Shopping Center 15th &
Walnut Sts 17th &
Turner Sts Allen &
6th Sts Lehigh Valley Mall
8:30 8:34 8:38 8:48 8:57
9:50 9:54 9:58 10:09 10:19
11:10 11:14 11:19 11:30 11:40
12:30 12:34 12:39 12:50 1:00
1:50 1:54 1:59 2:10 2:20
3:10 3:14 3:19 3:30 3:40
4:30 4:34 4:38 4:48 4:58
5:50 5:54 5:58 6:08 6:17
Southbound
Lehigh Valley Mall 7th &
Allen Sts 17th &
Linden 15th &
Elm
YMCA / YWCA Parkway Shopping Center
9:15 9:23 9:31 9:35 9:37
10:35 10:44 10:54 10:58 11:01
11:55 12:04 12:14 12:18 12:21
1:15 1:24 1:34 1:38 1:41
2:35 2:44 2:54 2:58 3:01
3:55 4:04 4:14 4:18 4:21
5:15 5:24 5:33 5:37 5:39
6:35 6:43 6:51 6:55 6:57
LANTA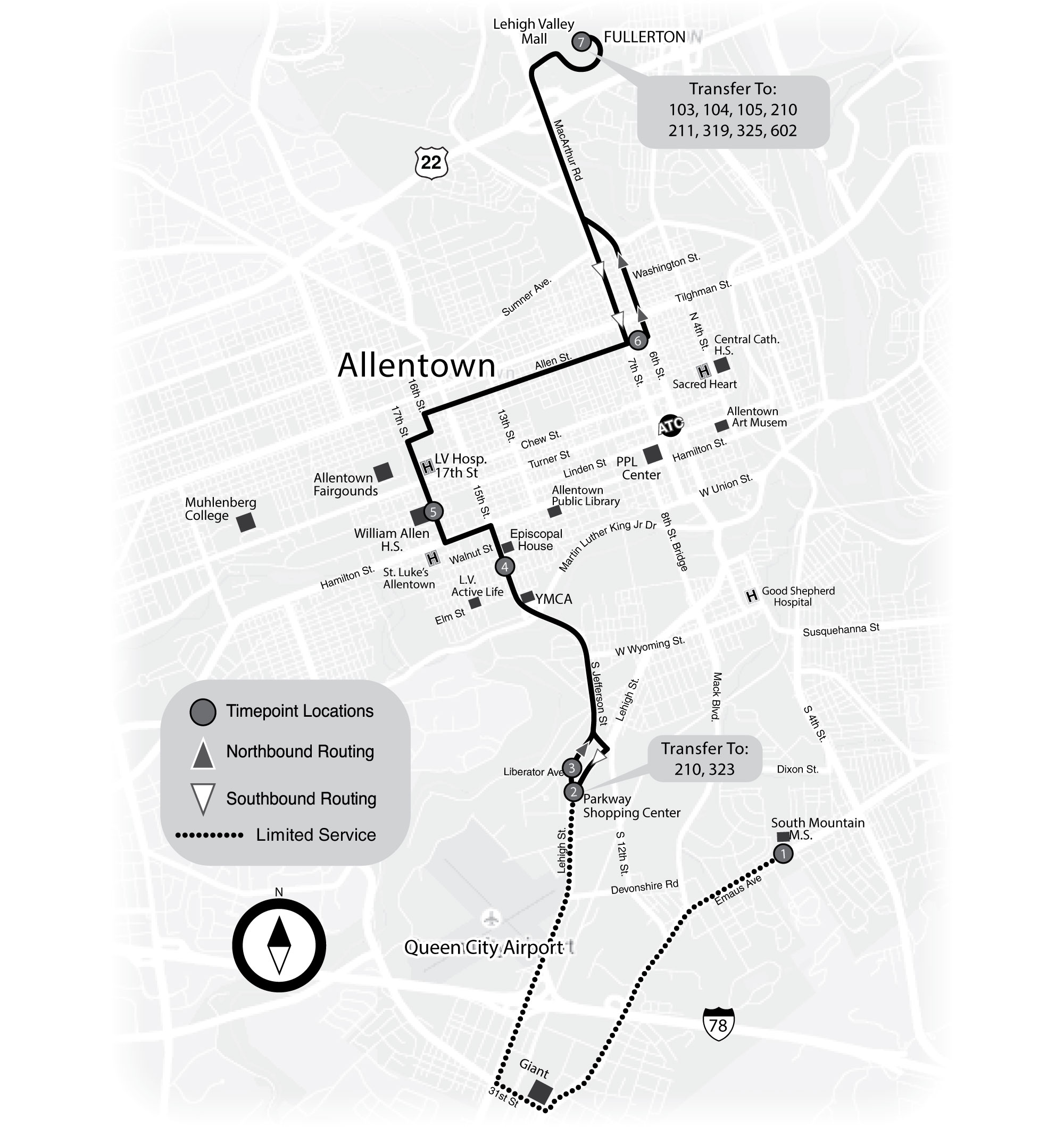 Stop Number Latitude (Y Coordinate) Longitude (X Coordinate) Direction On Street At Street Placement Public Information Name Stop Order Timepoint
4227 40.579412 ‐75.480642 NB JEFFERSON ST LEHIGH ST FAR JEFFERSON ST & LEHIGH ST (FS) 1
4228 40.583092 ‐75.478841 NB JEFFERSON ST 12TH ST NEAR JEFFERSON ST & 12TH ST (NS) 2
4229 40.584876 ‐75.478702 NB JEFFERSON ST LEHIGH PKWY NEAR JEFFERSON ST & LEHIGH PKWY (NS) 3
4230 40.586859 ‐75.479077 NB JEFFERSON ST CUMBERLAND ST NEAR JEFFERSON ST & CUMERLAND ST (NS) 4
4231 40.588592 ‐75.479412 NB JEFFERSON ST WYOMING ST NEAR JEFFERSON ST & WYOMING ST (NS) 5
3154 40.592844 ‐75.485641 NB 15TH ST ELM ST NEAR 15TH ST & ELM ST (NS) 6 Y
4998 40.595153 ‐75.486757 EB 15TH ST UNION ST NEAR 15TH ST & UNION ST (NS) 7
4143 40.596255 ‐75.487257 SB 15TH ST WALNUT ST NEAR 15TH ST & WALNUT ST (NS) 8 Y
1031 40.597042 ‐75.490349 SB HAMILTON ST 16TH ST NEAR HAMILTON ST & 16TH ST (NS) 9
1030 40.596624 ‐75.491771 SB HAMILTON ST 17TH ST FAR HAMILTON ST & 17TH ST (FS) 10
4997 40.598032 ‐75.492996 EB 17TH ST LINDEN NEAR 17TH ST & LINDEN ST (NS) 11
6222 40.599217 ‐75.493338 EB 17TH ST TURNER ST NEAR 17TH ST & TURNER ST (NS) 12
4107 40.601917 ‐75.494828 NB 17TH ST CHEW ST FAR 17TH ST & CHEW ST (FS) 13
4106 40.603517 ‐75.495518 NB 17TH ST LIBERTY ST NEAR 17TH ST & LIBERTY ST 14
4457 40.603891 ‐75.49429 EB LIBERTY ST B'NAI B'RITH FAR BNAI BRITH & HOUSE (MID) 15
4456 40.605263 ‐75.494005 NB 16TH ST ALLEN ST NEAR 16TH ST & ALLEN ST (NS) 16
4455 40.605899 ‐75.492215 EB ALLEN ST 15TH ST NEAR ALLEN ST & 15TH ST (NS) 17
4454 40.606507 ‐75.490111 EB ALLEN ST 14TH ST NEAR ALLEN ST & 14TH ST (NS) 18
4453 40.607067 ‐75.487954 EB ALLEN ST 13TH ST NEAR ALLEN ST & 13TH ST (NS) 19
4452 40.607662 ‐75.485765 EB ALLEN ST 12TH ST FAR ALLEN ST & 12TH ST (FS) 20
4451 40.608213 ‐75.483861 EB ALLEN ST 11TH ST NEAR ALLEN ST & 11TH ST (NS) 21
4450 40.608707 ‐75.481978 EB ALLEN ST 10TH ST NEAR ALLEN ST & 10TH ST (NS) 22
4449 40.609452 ‐75.479483 EB ALLEN ST 9TH ST NEAR ALLEN ST & 9TH ST (NS) 23
4994 40.609896 ‐75.477544 EB ALLEN ST 8TH ST NEAR ALLEN ST & 8TH ST (NS) 24
4995 40.610386 ‐75.475866 EB ALLEN ST 7TH ST NEAR ALLEN ST & 7TH ST (NS) 25
4996 40.610951 ‐75.473758 EB ALLEN ST 6TH ST NEAR ALLEN ST & 6TH ST (NS) 26 Y
1339 40.612334 ‐75.474347 NB 6TH ST TILGHMAN ST NEAR 6TH ST & TILGHMAN ST (NS) 27
1338 40.613772 ‐75.475146 NB 6TH ST WASHINGTON ST NEAR 6TH ST & WASHINGTON ST (NS) 28
1337 40.615355 ‐75.475801 NB 6TH ST GREENLEAF ST NEAR 6TH ST & GREENLEAF ST (NS) 29
4099 40.617569 ‐75.477075 NB 6TH ST SUMNER AVE NEAR 6TH ST & SUMNER AVE (NS) 30
1331 40.61917 ‐75.479408 EB 6TH ST MACARTHUR RD NEAR 6TH ST & MACARTHUR RD (NS) 31
6249 40.621862 ‐75.480887 NB MACARTHUR RD JORDAN PKWY NEAR MACARTHUR RD & JORDAN PKWY (NS) 32
1348 40.624633 ‐75.482147 NB MACARTHUR RD FAIRMONT AVE FAR MACARTHUR RD & FAIRMONT AVE (FS) 33
1003 40.631248 ‐75.47846 OFF ST LEHIGH VALLEY MALL TRANSIT CENTER TRANSIT CENTER LEHIGH VALLEY MALL TRANSIT STOP 34 Y
Stop Number Latitude (Y Coordinate) Longitude (X Coordinate) Direction On Street At Street Placement Public Information Name Stop Order Timepoint
1003 40.631248 -75.47846 OFF ST LEHIGH VALLEY MALL TRANSIT CENTER TRANSIT CENTER LEHIGH VALLEY MALL TRANSIT STOP 1 Y
1346 40.623622 -75.481913 SB MACARTHUR RD FAIRMONT AVE FAR MACARTHUR RD & FAIRMONT AVE (FS) 2
1347 40.621819 -75.481142 NB MACARTHUR RD JORDAN PKWY NEAR MACARTHUR RD & JORDAN PKWY (NS) 3
1351 40.619666 -75.480148 SB MACARTHUR RD MICKLEY RD NEAR MACARTHUR RD & MICKLEY RD (NS) 4
1345 40.615268 -75.477902 SB 7TH ST GREENLEAF ST NEAR 7TH ST & GREENLEAF ST (NS) 5
1344 40.613237 -75.476989 SB 7TH ST WASHINGTON ST FAR 7TH ST & WASHINGTON ST (FS) 6
1343 40.610666 -75.475655 SB 7TH ST ALLEN ST NEAR 7TH ST & ALLEN ST (NS) 7 Y
4121 40.609944 -75.477887 WB ALLEN ST 8TH ST FAR ALLEN ST & 8TH ST (FS) 8
4122 40.60955 -75.47928 WB ALLEN ST 9TH ST NEAR ALLEN ST & 9TH ST (NS) 9
4123 40.608992 -75.481543 WB ALLEN ST 10TH ST NEAR ALLEN ST & 10TH ST (NS) 10
4124 40.608411 -75.48357 WB ALLEN ST 11TH ST NEAR ALLEN ST & 11TH ST (NS) 11
4125 40.607848 -75.48551 WB ALLEN ST 12TH ST NEAR ALLEN ST & 12TH ST (NS) 12
4126 40.60724 -75.487748 WB ALLEN ST 13TH ST NEAR ALLEN ST & 13TH ST (NS) 13
4127 40.606756 -75.489661 WB ALLEN ST 14TH ST NEAR ALLEN ST & 14TH ST (NS) 14
4128 40.606194 -75.491531 WB ALLEN ST 15TH ST NEAR ALLEN ST & 15TH ST (NS) 15
4129 40.60557 -75.493806 WB ALLEN ST 16TH ST NEAR ALLEN ST & 16TH ST (NS) 16
4130 40.604055 -75.494122 WB LIBERTY ST B'NAI B'RITH APARTMENTS NEAR LIBERTY ST & BNAI BRITH APTS (NS) 17
4131 40.603728 -75.49527 SB LIBERTY ST 17TH ST NEAR LIBERTY ST & 17TH ST (NS) 18
4102 40.601291 -75.49456 SB 17TH ST CHEW ST NEAR 17TH ST & CHEW ST (NS) 19 Y
4133 40.598067 -75.493053 SB 17TH ST LINDEN ST NEAR 17TH ST & LINDEN ST (NS) 20
1064 40.596581 -75.491865 EB HAMILTON ST 17TH ST FAR HAMILTON ST & 17TH ST (FS) 21
1063 40.597035 -75.490265 EB HAMILTON ST 16TH ST NEAR HAMILTON ST & 16TH ST (NS) 22
1043 40.597486 -75.488228 EB HAMILTON ST 15TH ST NEAR HAMILTON ST & 15TH ST (NS) 23
4093 40.59635 -75.487397 SB 15TH ST WALNUT ST NEAR 15TH ST & WALNUT ST (NS) 24
4144 40.595331 -75.486939 SB 15TH ST UNION ST NEAR 15TH ST & UNION ST (NS) 25
6245 40.597594 -75.488247 SB 15TH ST FAIRVIEW ST NEAR 15TH ST & FAIRVIEW ST (NS) 26
6248 40.593028 -75.485871 SB ELM ST 15TH ST NEAR ELM ST & 15TH ST (NS) 27
4232 40.588495 -75.479514 SB S. JEFFERSON ST WYOMING ST FAR JEFFERSON ST & WYOMING ST (FS) 28
4233 40.587067 -75.479249 SB S. JEFFERSON ST CUMBERLAND ST NEAR JEFFERSON ST & CUMERLAND ST (NS) 29
4234 40.584475 -75.478832 SB S. JEFFERSON ST TIOGA ST NEAR JEFFERSON ST & TIOGA ST (NS) 30
3153 40.582320 -75.477688 EB 12TH ST LEHIGH ST NEAR 12TH ST & LEHIGH ST (NS) 31
4227 40.579412 -75.480642 NB JEFFERSON ST LEHIGH ST FAR JEFFERSON ST & LEHIGH ST (FS) 32 Y